Leaf Protection Products – Gutter Guard
When it comes to gutter guards there are a number of different leaf protection systems on the market. We install most types of gutter guards.
There are two leaf protection products that standout from the rest and are highly recommended gutter guard products.
Colorbond Steel Mesh Gutter Guards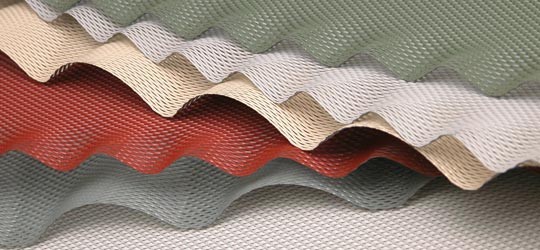 Gutter Protection Systems
Gutter Protection Systems specialises in quality COLORBOND® steel-mesh gutter guards to suit most roof types. The unique 3-dimensional design is protected by patent.
The Gutter Protection Systems 3D gutter guard features a raised profile mesh that is designed to help leaves and twigs to slide over its surface and off the roof, keeping gutters clear and less of a fire risk.
When rainwater hits that same raised profile, it disrupts the water's natural surface tension, causing it to break down and redirecting the flow down into the gutters. This is the Ripple Effect.
Blue Mountain Gutter Guard Colours
Blue Mountain Gutter Mesh is available in an extensive range of COLORBOND® and tile colours to suit most properties.
†Sandbank®, Loft® and Galvanised are only available for Steel Gutter Mesh

Note: Zinc and Galvanised are supplied with Shale Grey™ mesh
**Only available to suit tile gutter and valleys
Blue Mountain Mesh Gutter Guard
Unprotected gutters require constant cleaning, this can be time consuming, and is also potentially unsafe.
Blue Mountain Mesh gutter protection prevents leaves, unwanted wildlife and debris from entering or accumulating in the gutter system – this significantly improves the overall safety and performance of your gutter system.
No gutter protection system is completely maintenance free; you will still need to check your gutters regularly and flush out the sludge that can damage your gutters if not cleaned out.
Blocked gutters can lead to flooding, causing extensive damage to roof and ceiling areas, walls and floors, and destroying precious home contents. They can also lead to pest infestation and pose a fire risk due to a build up of debris in the gutters.
Offering the tightest fit and fast install Blue Mountain Mesh Gutter Guard greatly reduces the number of times you'll need to clean your gutters.
All Blue Mountain Co Gutter Mesh is non-combustible and complies to the Australian standards. Most gutter guards are NOT ember guards, but Blue Mountain Co 2mm steel mesh is both an ember guard and gutter guard. It is compliant with both requirements. For more info click here
Gutter Guard for your Tiled or Colorbond Roof
No matter what type of roof you have we have a gutter guard solution for you!
Colorbond or Tiled Roof we can supply and fit Gutter Guard in a range of colours.
If you don't see a gutter protection system here that suits your taste or application please give us a call and we'll help you find the right Gutter Guard for your home.
High grade steel 3D gutter guards designed and manufactured by Gutter Protection Systems
Gutter Protection Systems has developed a 3D contouring method that moulds the mesh to the exact measurements and shape of your roofing material, ensuring that there is no gap between the roof and fascia.
This secures your roofline at gutter level, preventing access to vermin like birds, snakes and possums that may otherwise nest in your ceiling. This is a very real Australian problem – one that can be solved efficiently and effectively with high grade steel 3D gutter guards designed and manufactured by Gutter Protection Systems.
We can install Gutter Protection Systems COLORBOND® steel mesh gutter guards in just hours. The steel gutter guards are pre-shaped at our factory for faster installation.
On-site, the installers simply lay down the contoured steel lengths, screw them in place, and silicone the edges to seal them. It's the most efficient and cost-effective installation system on the market.
It's important to know that we never compromise the integrity of your roof by lifting the roofing material (this can damage roofing clips on tiled roofs) during installation. Gutter Protection Systems fast installation process works particularly well for tiled roofs in Queensland where cyclones are a real threat and roofing must be secured.