Roof Replacement Bribie Island
Is your roof old or damaged? It is often more cost effective to consider a roof replacement rather than repairing sections. This is because a new roof will have all new components.
Repairing or replacing sections means that the integrity of the roof as a whole is not the same as a new roof replacement.
If your roof is relatively new and has sustained damage from a storm or trees falling we can assess the structure and advise you on the best course of action.
We also replace Gutters find out more.
*Please note: We do not repair, replace or install Tile Roofs.
Metal to Metal Roof Replacement Bribie Island
Replacing your roof is quite a process and there is a lot to consider so let's clear it up for you. When you hire us you are hiring a professional, we are here to take away the headache so all you will need to do is agree to the quote and choose your desired roof colour scheme. Please see the process below:
Contact us and arrange a time for a free measure and quote
Accept quote and pay your deposit
Colours and particulars are finalised, and materials are ordered
We organise all of the building approvals necessary through our regular building approval company and QBCC Home warranty insurance
A start date is arranged and booked in (weather dependant)
On the day the team will arrive to start your new roof install
Safety rail may need to be installed depending on the height and angles of your home
Removal of any solar panels/solar hot water
Your Old roof will begin to be removed
Tie downs are upgraded as required to current Australian standard. The condition of your roof battens will be inspected and repaired or replaced if needed
Engineering Form 16 Submitted
Shiny new roof sheets, capping, etc. will be laid and screwed down
All joints are sealed and made watertight
Whirlybirds installed (If applicable)
The roof and gutters will be blown off and all rubbish will be removed from the site
Re- install solar panels/solar hot water
Safety rail removed (if applicable)
Final Inspections
Form 21 submitted to council
Celebrate your new roof!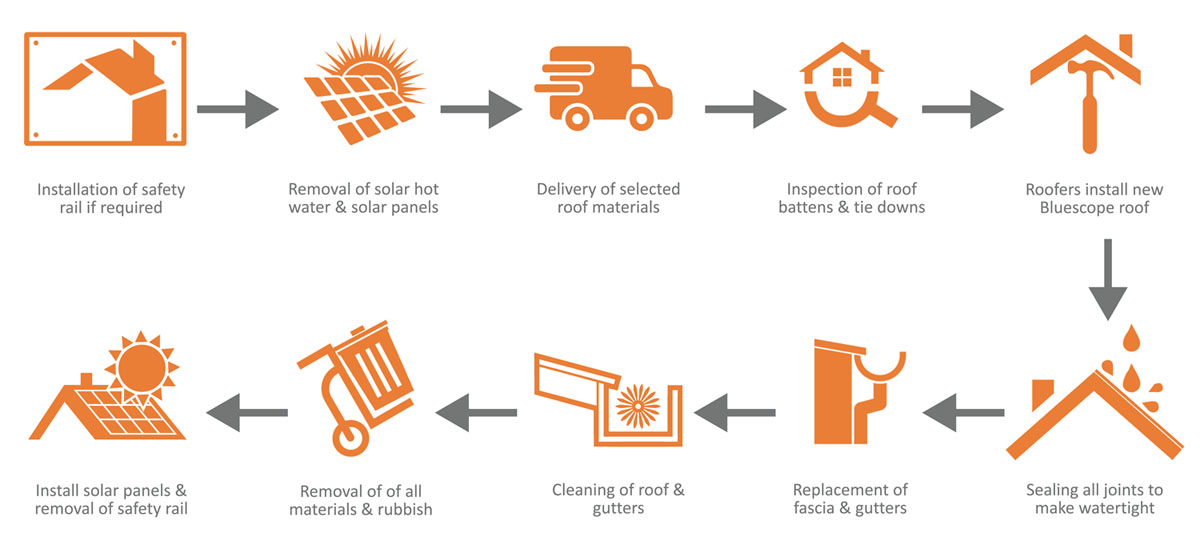 Do you have an Asbestos Roof?
If you're not sure what asbestos is let us explain some facts for you.
Asbestos is a group of fibrous minerals composed of needle like fibres. It was banned as an Australian building product since the early 2000's after discovering how deadly it could be to the people involved around it.
Over a long period of time asbestos can cause cancer, irrevocable damage to the body's cells, lung disease and death.
It's not until the fibres are released into the air and breathed in that they become a health risk. This can happen when the asbestos sheets are damaged.
Damage can be caused by a number of things including general wear over time, storm damage, falling trees etc.
Why replace your Asbestos roof with Colorbond?
Potential risk to your loved ones
If you wanted to install solar panels
Improve your house Value and selling potential
If you have a leaking roof it can be a major health risk and may not be able to be repaired
Improve the overall look of your home
Learn more about Asbestos Roof Replacements Here.
Our Roofing Services Include:
---
New roofs, roof replacement, reroofing
Roof replacement
Hail damaged roof replacement
Asbestos roof and gutter replacement
Polycarb roofing
How can a new roof improve your home?
House Value
Adding Value to your home and enhancing the street appeal. You may be renovating or even trying to sell your home. With both of these options you are investing your money straight back into your home and you will see a return on your investment. It could also save you on marketing costs as your home will have more curb appeal and attract more buyers faster!
Energy Efficiency
A new roof can not only add value but save you money on power bills by ventilating your home organically
Life Span
A brand new roof will ensure your home will be safe for the next 50 yrs
Damage to your Home
An unmaintained roof can come with multiple complications, leaks which cause mould, rot to your house frame and costly water damage to your plaster board. There may also be some unwanted pests getting in.
Why is a metal roof better than tiles?
Colorbond® steel roofing is a type of corrugated metal roofing featuring a bonded paint finish. It has become a popular choice due to its considerable resistance to corrosion and availability in a variety of colours.
Compared to a traditional tile roof, which has a lifetime of about 20 years, a Colorbond® roof offers at least a 50-year lifespan.
If you are after a modern look, Colorbond offers a more modern clean cut look with lots of colour choices to choose from to suit your style of home.
We live in a dry climate and every bit of water counts. Without a doubt colorbond takes the prize for being able to collect the most water from a rainfall. Tiles absorb and retain more water which means less in your water tank.
A metal roof has better protection against bush fire embers. Metal is less likely to light up over a tiled roof.
*Please note: We do not repair, replace or install Tile Roofs.
Hail Storm Roof Repairs Bribie Island
Ningi | Toorbul | Banksia Beach | Bellara | Bongaree | Donnybrook | Sandstone Point | Woorim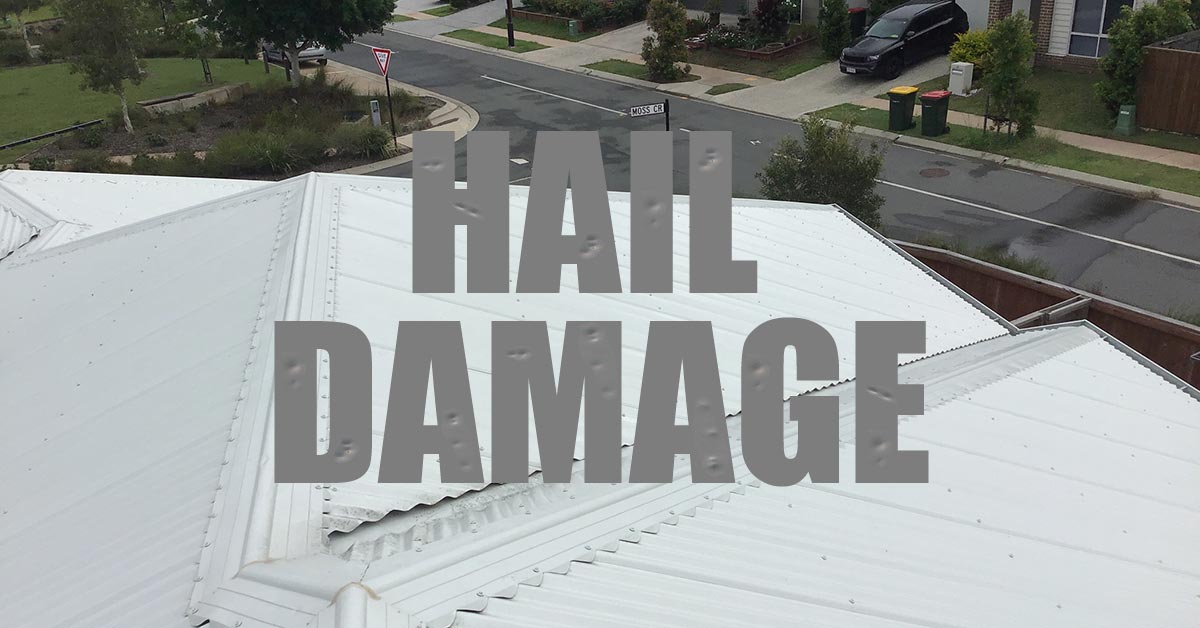 Bribie Island Hail Roof Replacement
We provide professional hail storm roof damage repairs and replacements for metal roofs.
If you have home insurance you may be covered for hail damage to your roof.
We can provide you with a professional roof inspection report plus a no obligation quote for your roof repair or replacement. The report can be forwarded to your insurance company for their approval. Ask your insurer for a Cash Payout or request your insurer uses us as the Preferred Contractor.
This will often speed up the process of getting your hail damaged roof repaired or replaced by experienced professionals, all covered by your insurance.
Our Team are respectful, experienced and professional. We only use high quality materials and we guarantee our work!
Waiting For Hail Damage Roof Insurance?
We can often help to get things moving along! Contact us for a Free roofing report and quote
Often Insurance Companies are delayed in getting to your hail storm damage roof claims. This can be due to a higher than usual amount of claims brought on by unusual and damaging storms that affect certain areas and regions.
A Hail Storm In December 2020 damaged many roofs on Bribie Island and surrounding areas. Areas like Ningi, Toorbul, Banksia Beach, Bellara, Bongaree, Donnybrook, Sandstone Point and Woorim had many residents experiencing hardship from Hail Damaged Roofs - many had to move out of their homes until repairs could be completed.
If you are covered by insurance you may expect a lengthy delay before they can process your claim.
We can often help you with getting your hail and storm damaged roof repaired or replaced quicker! By providing you with a professional roof damage report and a quotation you can then ask your insurer for a Cash Payout or request your insurer uses us as the Preferred Contractor.
This is often much quicker and once approved we can promptly repair or replace your hail damaged roof.
Why Use Us For Your Hail Damage Roof Repair?
We are a reputable, professional and experienced family owned Business with years of roofing experience!
Professional
Roof Repairs & Replacements
Experienced
Roof Repairs & Replacements
Family Owned
Roof Repairs & Replacements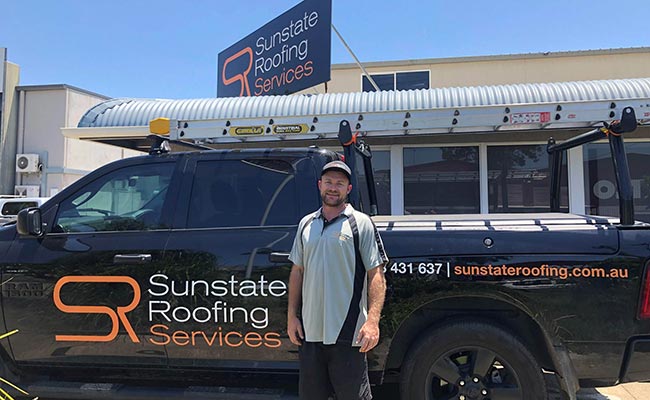 Message Us Now
*Please note: We do not repair, replace or install Tile Roofs.
Don't Wait! Get your roof repaired quicker...
Fill in your details on the form provided and one of our friendly team will be in touch to make an appointment
*Rebate Terms & Conditions
*Must provide a receipt from the insurer for the excess that was paid prior to completion of the works to be eligible for up to $1500 taken off from the final invoice amount.
*Full Roof Replacements Only