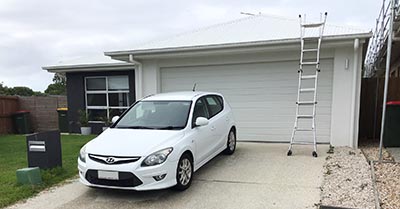 We were asked to complete a Hail Damaged Metal Roof Replacement in Caloundra after the owner had received a cash payout from her insurance company.
The hail damaged metal roof was a result of the damaging hail storms experienced on the Sunshine Coast in November 2019. The storms caused millions of dollars worth of damage to homes and businesses as reported by the ABC.
Our Hail Damaged Roofing Inspection Team quickly responded and assessed the hail damaged roof. We identified the roofing components that needed to be replaced and provided a report and a scope of works to be carried out that would satisfy the Insurance Company.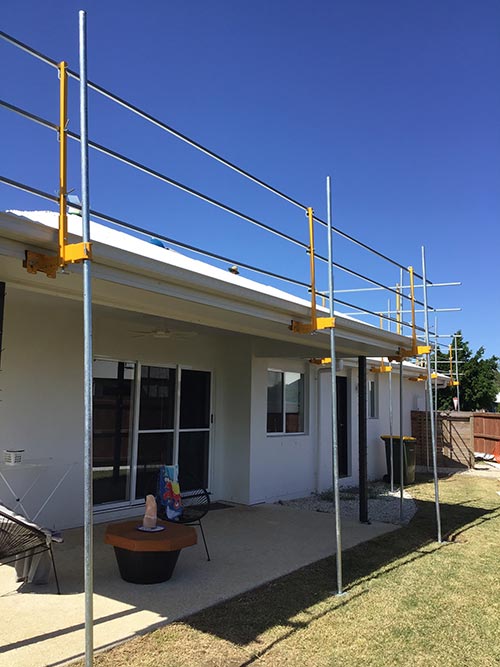 Hail Damaged Metal Roof Replacement
Preparing the job site for a safe working environment is one of our core values. We take the safety of our team and customers seriously and follow all work safe practices and guidelines.
Here you can see the safety rail is in place ready for the roof replacement team to begin the re roofing job.
Colorbond® Metal Roof Replacement
The Hail Damaged Roof was replaced with color bond sheets in the colour "Surfmist" which is a very popular colour in the Colorbond® Range.

The hail damaged roof was replaced promptly by our professional re roofing team. This meant that there was very minimal inconvenience caused to the customer.
As with all of our re roofing jobs – we complete a thorough check of all components to ensure that nothing has been overlooked. We then remove all rubbish and clean up the area where we have been working.
---
Hail Damaged Roof Tips For Insurance Claims
When there has been a large hail storm that has caused mass destruction like the one on the Sunshine Coast in November 2019 there will be many insurance claims.
This means that you may be waiting longer than you would like as the insurance companies try and get through the backlog. A way to speed up the process is to get a roof inspection and quote from a reputable roofing company and submit this to your insurance broker and ask them for a cash payout.
This really can speed things up because once you have approval and have signed your contract with us we can usually have you booked into the calendar within 2 weeks!
This is our process:
Request a measure and quote from us for your insurance company
On approval your insurance company will give you a pay out
Sign your re roofing contract and pay the first deposit
Your material is ordered
Your job is scheduled into the work calendar within the next 2 weeks (later if requested)
If you need your Hail Damaged Roof Replaced contact us now for a Free Quote